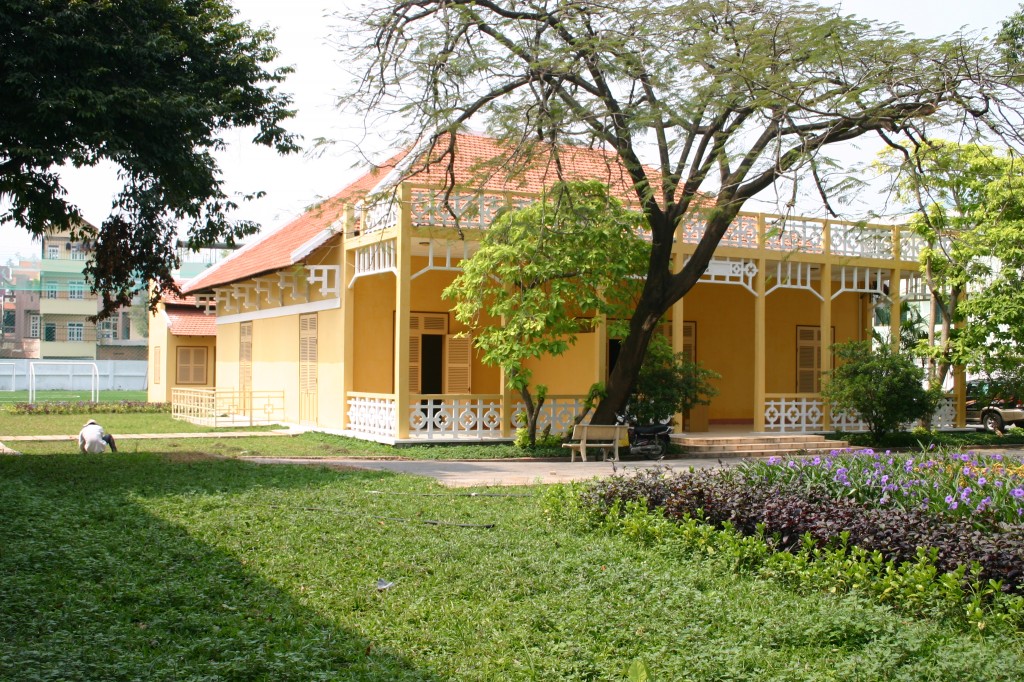 Located just a short walk from the Lê Văn Duyệt Mausoleum in the Phú Nhuận District of Hồ Chí Minh City, the rather grandly named "Headquarters of the Delegation Linking the Việt Nam People's Army High Command with International Monitors of the Truce in Sài Gòn (1955-1958)" opened to the public in 2012 after a period of restoration and affords a fascinating glimpse into the dangerous world of 1950s Sài Gòn.
In the aftermath of the victory at Điện Biên Phủ in 1954, the Geneva Accords provided for the temporary division of Việt Nam along the 17th Parallel, pending national elections in 1956 to reunify the country. An International Control Commission (ICC), chaired by India with Poland and Canada as members, was set up to monitor the implementation of the Accords.
In April 1955, Phạm Hùng (1912-1988), former head of the People's Army of Việt Nam delegation in the South and later Prime Minister of Việt Nam, was sent to Sài Gòn as head of the 16-strong Delegation with a brief to maintain a presence on behalf of the People's Army and to monitor the situation in the south. On 17 May 1955 the Delegation set up operations in the former French district military headquarters at 61 Liên Tỉnh 2 street in Đông Ba village,  Phú Nhuận, Gia Định.
In the event those elections were never held, but the Delegation remained in Sài Gòn until May 1958. During this period it is said that South Vietnamese authorities posted guards outside the building, placing restrictions on their travel, tapping their telephones and routinely cutting off their electricity supply.
A National Historic Monument, the Delegation HQ has been restored with authentic 1950s fixtures and fittings and is now open to the public. Visitors can tour the Delegation's offices, residential accommodation, secret cellar and attic and confidential files block at the rear (to which apparently only high-ranking cadres were admitted).
Vintage car enthusiasts will also be thrilled to hear that there's even a vintage white Citroën in the garage….
Getting there
Address: Trụ sở Phái đoàn liện lạc Bộ Tổng Tư lệnh QĐND Việt Nam cạnh Phân ban quốc tế giám sát và kiểm soát đình chiến tại Sài Gòn (1955-1958), 87A Trần Kế Xương, Phường 7, Quận Phú Nhuận, Thành phố Hồ Chí Minh
Telephone: 84 (0) 982 847 7774 (Ms Nguyễn Viên Thi, Vietnamese language only)
Opening hours: 8am-11am, 2pm-4.30pm Tue-Sat
See also Off the Tourist Trail in HCMC – Tran Phu Memorial Museum
Tim Doling is the author of the walking tour guidebook Exploring Hồ Chí Minh City (Nhà Xuất Bản Thế Giới, Hà Nội, 2014) and also conducts Saigon and Chợ Lớn Heritage Tours.
A full index of all Tim's blog articles since November 2013 is now available here.
Join the Facebook group pages Saigon-Chợ Lớn Then & Now to see historic photographs juxtaposed with new ones taken in the same locations, and Đài Quan sát Di sản Sài Gòn – Saigon Heritage Observatory for up-to-date information on conservation issues in Saigon and Chợ Lớn.