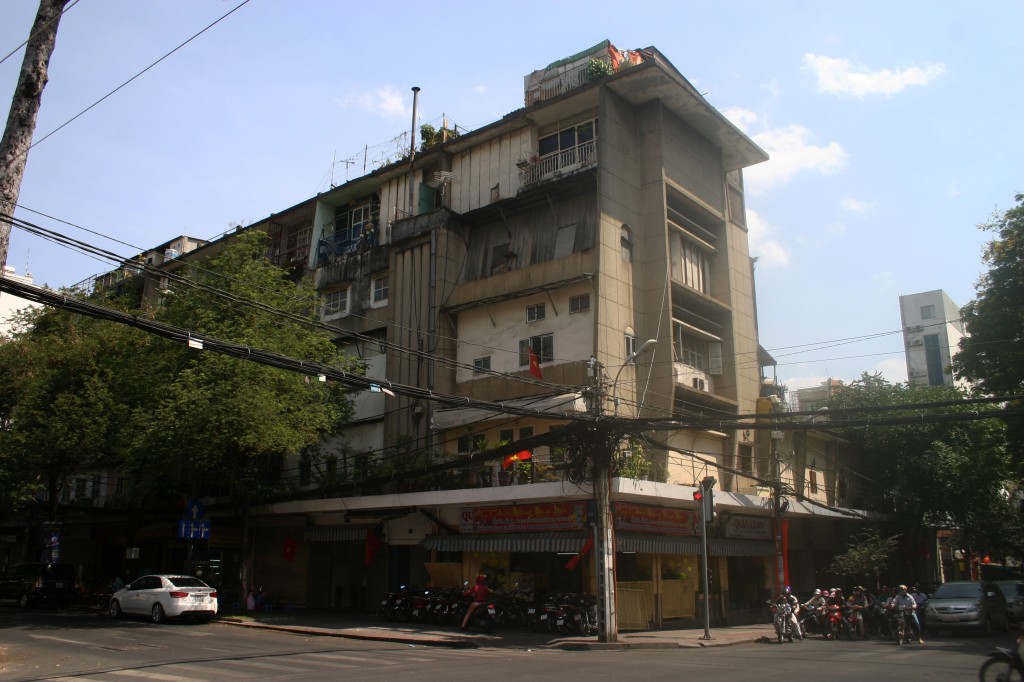 During the early period of American involvement in Việt Nam, United States policies concentrated heavily on culture and information programmes aimed at winning support for the Ngô Đình Diệm regime. And the focus of that effort was the large grey building on the Hai Bà Trưng/Lý Tự Trọng street intersection.
Originally numbered 82 Hai Bà Trưng, this attractive modernist building was constructed in the early 1950s to house the Saigon offices of the United States Information Service (USIS).
According to an American report of 1956, "The USIS occupies excellent, roomy quarters in three floors of a street corner building at a prime location in downtown Saigon, about a mile from the Embassy. It is completely air-conditioned. The facilities include a library (ground floor), a 150-seat auditorium, radio studios and film editing and recording rooms. The square footage totals 33,454." On 22 October 1957, 82 Hai Bà Trưng was one of three US installations in Sài Gòn to be targeted by the National Liberation Front.
In 1962, the USIS moved to what is now the Rex Hotel, where a new Abraham Lincoln Library opened its doors to the public. The building at 82 Hai Bà Trưng then became an annex. However, in subsequent years, as the insurgency gathered momentum, the United States gradually began to switch to a primarily military strategy. In 1964 the Abraham Lincoln Library was relocated to Lê Quý Đôn street (District 3) and in 1965, following the arrival of the first US combat troops, the USIS operation at the Rex was subsumed into the Joint US Public Affairs Office (JUSPAO), becoming an arm of the military. From that time onwards, the old annex at 82 Hai Bà Trưng became known as "JUSPAO 2."
Soon after the Paris Peace Accords of 1973, 82 Hai Bà Trưng reverted to civilian usage. Today the building is mainly occupied by private apartments, but is perhaps best known as the home of the popular Quán Loan restaurant at 37 Lý Tự Trọng.
You may also be interested to read these articles:
In Search of Saigon's American War Vestiges
American War Vestiges in Saigon – 60 Vo Van Tan
American War Vestiges in Saigon – 606 Tran Hung Dao
American War Vestiges in Saigon – 137 Pasteur
American War Vestiges in Saigon – Former "Free World" HQ
Tim Doling is the author of the walking tour guidebook Exploring Hồ Chí Minh City (Nhà Xuất Bản Thế Giới, Hà Nội, 2014) and also conducts Saigon and Chợ Lớn Heritage Tours.
A full index of all Tim's blog articles since November 2013 is now available here.
Join the Facebook group pages Saigon-Chợ Lớn Then & Now to see historic photographs juxtaposed with new ones taken in the same locations, and Đài Quan sát Di sản Sài Gòn – Saigon Heritage Observatory for up-to-date information on conservation issues in Saigon and Chợ Lớn.