The urban sprawl of Hạnh Thông Tây in the Gò Vấp district of Hồ Chí Minh City is the rather unlikely setting for what is believed to be Việt Nam's only Byzantine style Roman Catholic church.
Hạnh Thông Tây Church was built under the auspices of the Société des Missions Étrangères de Paris (MEP) in 1921-1924. The land was provided by one of wealthy landowner Huyện Sỹ's sons, Denis Lê Phát An (1868-1946) and his wife Anna Trần Thị Thơ, who also paid most of the construction costs, the remainder being met through donations.
The work was initially entrusted to a French contractor named Baader. However, on one of his frequent visits to the site during the construction period, Denis Lê Phát An noticed many major technical errors, particularly on the façade, so he issued Baader with a warning and later sacked him altogether, bringing in a new contractor named Lamorte to finish the job.
Uniquely for a church built in Việt Nam, its architecture was influenced not by Gothic or Romanesque but by Byzantine style, reportedly taking as its model the Basilica of San Vitale in Ravenna, Italy. Italian bricks were used throughout the interior to give the impression of a traditional Italian sanctuary. The church underwent extensive but sympathetic restoration in 2011-2012.
Hạnh Thông Tây Church has a traditional cruciform-shaped groundplan and the interior features a high vaulted nave flanked by flat-roofed side aisles, a transept and a raised sanctuary which terminates in an apse.
The hemispherical semi-dome above the apse features a large painting of Christ on the Cross. A 20m high dome is located immediately above the crossing and the ring at its base is similarly decorated with paintings of Christ's Disciples. The high altar is made from white marble and features elaborate floral engraving. Shrines to Mary and Joseph stand in front of the transept walls, either side of the sanctuary. The 14 Stations of the Cross are situated between the windows along both church walls.
When Denis's wife Anna Trần Thị Thơ died on 18 January 1932 at the "Monjoie villa" in Thủ Đức, she was buried in an elaborate tomb in the east transept of the church. Fourteen years later, when Denis himself died on 17 September 1946 in Sài Gòn, he was buried in a matching tomb in the west transept. The two tombs are elegantly realised in Renaissance style by unnamed French sculptors and depict effigies of the couple kneeling in prayer, each mourning the other.
The church originally incorporated a 30m high steeple, but in 1953 the spire was removed at the request of Indochina Airlines, reducing its height to 19.5m for reasons of aviation safety.
The shortened tower later suffered damage during the 1968 Tết Offensive, after NLF Special Forces famously used it to fire on American positions at the nearby Tân Sơn Nhất Air Base.
The church and its recently-built conference hall stand in a compound with large statues of Jesus and Mary located either side of the main entrance. The interior walls of the compound feature 15 elaborately carved sculptures depicting scenes from the New Testament.
Getting there
Address: Nhà thờ Hạnh Thông Tây, 53/7 Quang Trung, Phường 11, Quận Gò Vấp, Thành phố Hồ Chí Minh
Telephone: 84 (0) 8 3895 8069, 84 (0) 90 999 4688
Opening hours: By permission of Father Clêmentê Lê Minh (office behind the church), 8.15am-11am, 2pm-4pm Tue-Sat
You may also be interested to read these articles:
Saigon's Favourite Churches – Huyen Sy Church
Saigon's Favourite Churches – Tan Dinh Church
Saigon's Lost Protestant Chapel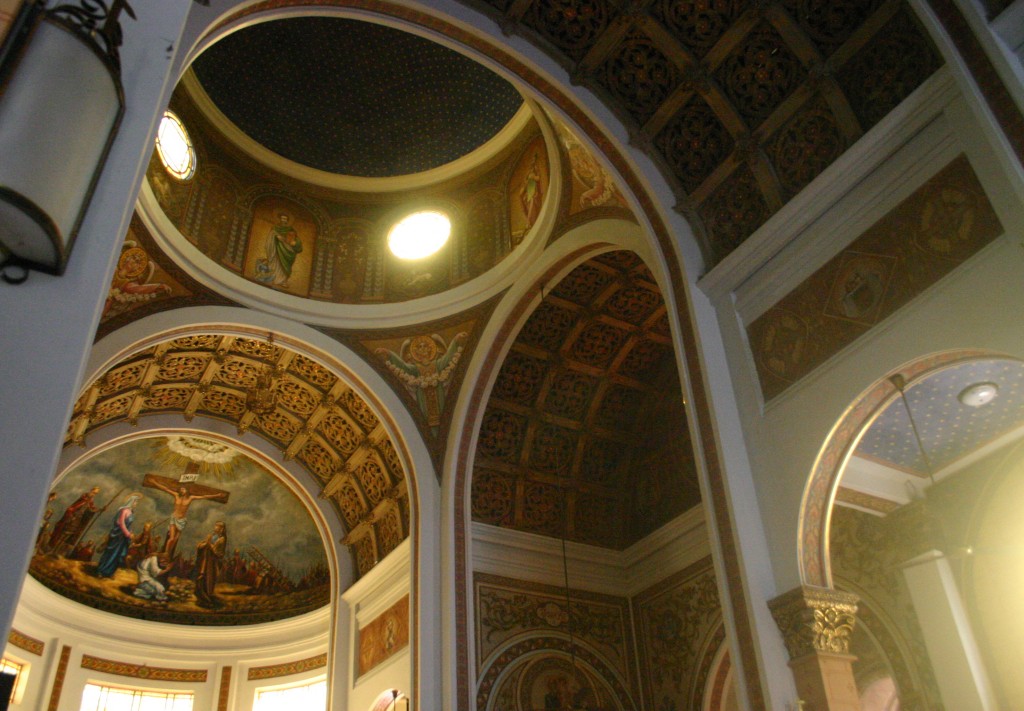 Tim Doling is the author of the walking tour guidebook Exploring Hồ Chí Minh City (Nhà Xuất Bản Thế Giới, Hà Nội, 2014) and also conducts Saigon and Chợ Lớn Heritage Tours.
A full index of all Tim's blog articles since November 2013 is now available here.
Join the Facebook group pages Saigon-Chợ Lớn Then & Now to see historic photographs juxtaposed with new ones taken in the same locations, and Đài Quan sát Di sản Sài Gòn – Saigon Heritage Observatory for up-to-date information on conservation issues in Saigon and Chợ Lớn.