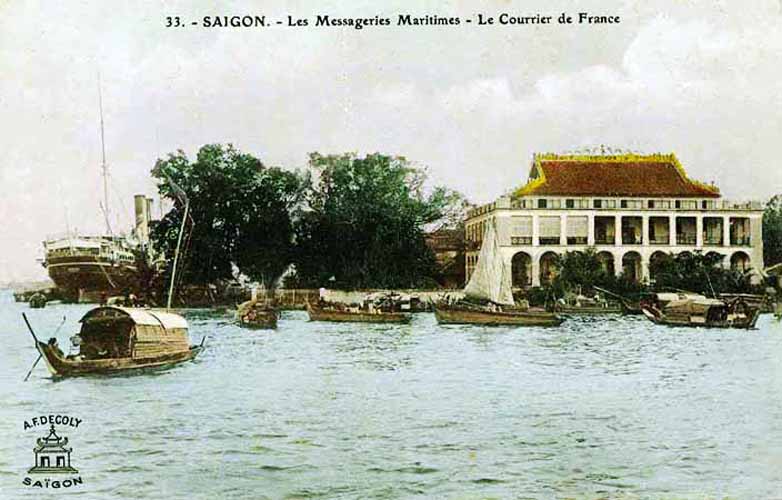 Dutch writer Gerrit Verschuur (1840-1906) travelled extensively through Asia and Australasia. During an 1899 tour which also took in India, Ceylon (Sri Lanka), Singapore, Cambodia, China and Japan, Verschuur visited all three regions of Việt Nam. Below is a translated extract from his book Aux colonies d'Asie et dans l'Océan Indien (Hachette, Paris, 1900) describing his experiences in colonial Saigon.
Apart from a few hostels that aren't really worth mentioning, Saïgon has three rather mediocre hotels. Although some of their rooms are fairly well appointed, they are rarely available, being occupied on a monthly basis by government officials. So we were forced to content ourselves with what we could find.
From the point of view of comfort and cleanliness, the room I stayed in at the Grand Hotel [Continental] was very poor and the food was bad. Fortunately, the seasoned globetrotter eventually acquires a considerable dose of philosophy and patience, and in some respects, the lack of material well-being is more than offset by the emotions of his wanderings.
The capital of Cochinchine is unquestionably one of the most beautiful cities in the Far East. The streets are wide, the roads are beautiful and well maintained; there is air and space throughout. While Singapore has larger, more imposing and more "European" buildings, Saïgon, with its smaller houses surrounded by gardens, presents a much more tropical feel, and reminds us in some ways of Java.
An hour after my arrival, I made the acquaintance of one of its finest monuments: the magnificent City Post Office, located next to the Cathedral. However, I would have traded this for a less imposing building with more employees working in it, for – just as in Paris – three of its five counters were marked "closed" and I was obliged to queue for 10 minutes to buy a stamp!
The Palace of the Governor General [the Norodom Palace], located at the end of boulevard Norodom, is a beautiful building, and that of the Lieutenant Governor may be one of the most beautiful homes found in the colonies.
In front of the Governor General's palace there is a statue of Gambetta, depicted wearing a fur coat. What that great orator ever did for Saïgon, nobody knows.
The city has two other statues which do at least have a raison d'être: one represents Francis Garnier and the other Admiral Rigault de Genouilly. There is also a pyramid, rather modest perhaps, devoted to the memory of Doudart de Lagrée.
Other landmarks which deserve to be seen include the Palais de justice [Law Courts], the large Château d'eau [Water tower] which supplies the city, the Caserne de l'Infanterie [Infantry barracks] and several other well appointed buildings.
The Saïgon Hospital [the Military Hospital, later known as the Grall Hospital] is a marvel; I had the opportunity to visit it at some length under the guidance of an obliging doctor, and in return to pay a small service by acting as interpreter to a foreign sailor who wanted to be admitted but could not make himself understood. The laboratory, organised in accordance with the Pasteur system, is an admirable facility; I attended curious experiments on snake venom.
The heavily subsidised Theatre [built on the site of today's Caravelle Hotel in 1872 and rebuilt after a fire in 1881] stands across the square from my hotel and seems quite sufficient for local needs. However, it seems that the colony is of a contrary opinion, since a new Municipal Theatre, much larger and more luxurious, is already under construction and should be completed soon. The considerable amount of money spent on it could surely have been used for something more useful and urgent.
This is a city of great traffic, but steamers hardly dock here and department stores are completely missing. The store of the Customs Department is all that is available. As for wharfs, apart from the ones belonging to the French Navy, I saw only those of the Messageries maritimes and Messageries fluviales. Just five years ago, one still had to disembark from ships in the mud, while the mail boat from Europe has only recently begun to call here.
Avid strollers will find something to suit their taste by walking along the beautiful rue Catinat, which is reminiscent of the avenue de la Gare in Nice.
This is the main street of the city, lined not only with novelty shops, bookshops and antique shops run by Frenchmen, but also with smaller outlets such as tailors, launderers, shoemakers and carpenters, run by industrious Chinese. By 6pm each evening, the European stores are all closed, but the Chinese continue to work until midnight if necessary, and their shops are still the first to open the next morning.
Saïgon has two parks which are beautifully manicured and offer lovely walks. One is called the Jardin botanique [Botanic gardens] and the other the Jardin de la ville [City park]. You can get there on foot or by carriage, each according to his means; you can listen to music in the evenings and admire beautiful birds, snakes, tigers, bears and other animals, while the olefactory organ is pleasantly flattered by the abundant flora which borders the trails.
Saïgon's classic promenade at sunset is known as the "tour de l'Inspection." It takes an hour, or perhaps a little more, and extends in a circuit around the city. After the heat of the day, it offers a fresh and delicious excursion along beautifully maintained roads. All of Saïgon can be met on the "tour de l'Inspection," travelling either in private or hired carriages or on bicycles.
Cholon, located 6km from the capital, offers another excursion of great interest. Two roads lead to it, one following the Chinese arroyo while the other travels inland. The former offers an especially animated scene – hundreds of boats pressed against the banks of the waterway, making you believe it is a floating city.
The small town of Cholon, which was formed as an annex or suburb of Saïgon, was built in 1778 by Chinese immigrants, and has been expanded considerably since that time.
Today it is inhabited in part by Annamites [Vietnamese] and in part by Chinese, almost all traders and shopkeepers. Commercial life extends along the quays, where goods imported and exported in the many river boats and junks are loaded and unloaded. In the interior of the city may be found shops from different merchants, both Chinese and Annamites.
Cholon is a centre of activity that begins at sunrise and lasts until late at night; in the evening, the shops are illuminated by lanterns of many varied shapes and colours. It would be inexcusable if, visiting Cochinchina, we did not spend a night at the Annamite Theatre in Cholon, where the sets and costumes, and especially the somewhat out-of-the-ordinary play, offer a very original experience.
The Annamite prefect of Cholon – the "Doc-phu" – is an important figure in view of his position, beside being the kindest and most welcoming host to the visitor. His house is a veritable museum of art masterpieces from Tonkin and Annam. Even a stranger with no letter of introduction who expresses the wish to cross the threshold of this hospitable house and admire its beautiful collections is received immediately. I was the subject of an ever warmer welcome when I handed the prefect a letter of recommendation from a Parisian who is responsible for the education of two of his sons in France.
The Doc-phu speaks a little French; his three daughters, to whom I was presented, talk with more ease; his eldest son, who recently returned from Europe after having completed his education, speaks French fluently. His mother speaks only Annamite; she and the girls wear the costume of the country, but the father and son are dressed in the European style.
He invited me to lunch the next day along with some other guests. I accepted with alacrity.
To get to Cholon this time, instead of a carriage, I took the steam tramway, which starts not far from the centre of Saïgon. I was accompanied by another of the Doc-phu's guests.
The cuisine was half French, half Annamite; both excellent. The base of the Annamite cuisine is rice, served with condiments and accessories, like the famous "rice table" of Java. Accompanied by delicious wines – Bordeaux, Burgundy, Champagne – this was a veritable Lucullan feast and a very welcome change from the bad ratatouille at the Hotel.
I have tasted bear in Sweden, tiger and snake in India, lizard in South America, and many other exotic dishes. Here, I was introduced to two dishes that were completely new to me. First, as an appetizer, a great delicacy of Cochinchina – the palm worm!
At the risk of offending gourmets who speak highly of this delicacy, I cannot help but admit that the mere thought of eating a worm – even if we had to pay 50 centimes for it, the price at which it is commonly sold – would normally have put me off the idea.
But this time I had to resign myself, since my kind host slid six of the creatures onto my plate with the tip of his knife.
The taste was not bad; one could describe it as being like a cream, a fondant, wrapped in a light crispy skin. But that's not important. I ate a worm, and it will be my last!
The Doc-phu offered us another dish that lacked nothing in originality: elephant's trunk. The flesh of the pachyderm, hard as leather, is barely edible, but the trunk is a delicacy. It is soft and looks like a slice from a pot-au-feu of the highest quality. However I heard that it took 48 hours to cook the piece we were savouring; I think that our European chefs would protest if the elephant's trunk featured often on their menu!
See also Dinner with the Tong-Doc
Tim Doling is the author of the walking tour guidebook Exploring Hồ Chí Minh City (Nhà Xuất Bản Thế Giới, Hà Nội, 2014) and also conducts Saigon and Chợ Lớn Heritage Tours.
A full index of all Tim's blog articles since November 2013 is now available here.
Join the Facebook group pages Saigon-Chợ Lớn Then & Now to see historic photographs juxtaposed with new ones taken in the same locations, and Đài Quan sát Di sản Sài Gòn – Saigon Heritage Observatory for up-to-date information on conservation issues in Saigon and Chợ Lớn.