A leaflet published in February 1973 by the Directorate of Viet-Nam Railway System, RVN Ministry of Communications and Post.
1. Background of the Transvietnam Railway
The first railway line, which was built in Viet-Nam in 1885, was the Saigon-Mytho line (70km). It was subsequently added to between 1885 and 1902 by the Hanoi-Langson line.
The railway linking the North with the South (1,738kms) was achieved with many phases of construction work which were spread between 1903 and 1936.
After the Geneva Agreement in 1954 had partitioned Viet-Nam into two parts, the length of railway line south of the 17th parallel totalled 908kms and included two operational portions:
● In Central Viet-Nam
The portion of line between Dong-Ha and Da-Nang (171kms)
● In South Viet-Nam
The portion of line betwen Ninh-Hoa and Saigon, including the branch lines from Nga-Ba to Ba-Ngoi and Muong-Man to Phan-Thiet (465kms)
The Saigon-Mytho line (70kms)
The Saigon-Loc Ninh line (118kms)
The Thap Cham-Dalat line (84kms)
The first reconstruction of the Transvietnam Railway, which was started in 1955 and completed in 1959, involved the restoration of the section from Ninh-Hoa to Da-Nang (490kms).
However, in 1961, guerilla warfare started again in the Republic of Viet-Nam. The stepped-up sabotage campaign caused traffic interruption on many sections of the line. As a result, the length of operated line shrank from 1,345kms in 1959 to 529kms by 1966.
The second reconstruction of the Transvietnam Railway began in 1967. From the end of 1967 to April 1969, the Viet-Nam Railway System (VNRS) completed the restoration of the following sections:
● Phu-Cat to Qui-Nhon and Nha-Trang
● Thap-Cham to Songlongsong
● Hue to Da-Nang
2. Personnel and Social Welfare
Railway activities reduced by the war during recent years have led to organizational simplification and personnel compression. Railway personnel, from a figure of 6,200 employees in 1961, now number 3,204 and are distributed as follows:
● General management: 267 employees
● Operations and traffic: 596 employees
● Mechanical: 994 employees
● Track, building and reconstruction: 1,181 employees
● Handling and navigation: 166 employees
The railway personnel drafted into the Army of Viet-Nam amount to 534 men.
Railway personnel are classified into permanent cadres and non-permanent cadres. Retired permanent cadres of VNRS are paid a retirement pension from Viet-Nam Railways retirement funds. Non-permanent cadres at retirement are paid a lump sum extra compensation which is computed according to the time of service.
To provide living quarters for staff, the VNRS has built in Saigon 10 groups of houses totalling 415 units, and in provinces 7 housing centers totalling 564 units.
A Central Supply Service (Fair Price Shop) in Saigon and several regional branches have been created to supply railway personnel with necessary commodities for daily use at cost price.
The Railway Medical Service has set up 1 dispensary in Saigon and 11 others in provinces along the railway line to provide medical consultations, treatments and drugs to railway personnel free of charge. The monthly cost of drugs amounts to VN$ 50,000-60,000.
3. Fixed Installations
The track structure with 1 meter gauge consists of laying rails weighing 27 and 30kg per linear meter, on steel sleepers spaced apart, the number of which averages 1,400 sleepers per kilometer of track. The work of replacing 27kg rail with 30kg rail is progressing, together with the installation of pre-stressed concrete sleepers which are produced by the VNRS.
The work of welding rail to exclude joints which are the bad points of the track has been performed to provide about 10kms of continuous rail at various locations such as Go-Vap, Ninh-Hoa, Da-Nang, etc.
Aside from the cogged branch line from Song-Pha to Dalat which has a 12% grade, the maximum gradient of the entire flat line is 1.5%, with a 1% grade predominating over 94% of the main line.
Around 80% of the length of the main line has curves of over 300 meters radius, while the remaining 20% has curves with a radius of 300 meters or less.
Projects have been drawn up to improve gradients and to straighten track, so that speed restrictions may be kept to a minimum.
The VNRS structure includes: 413 large bridges more than 10m long with an aggregate length of 17.743m; 27 tunnels totalling 8,767m in length; 78 stations; and a plant at Thap-Cham which manufactures pre-stressed concrete sleepers and girders.
4. Train Working and Signalling on the VNRS
a) Train Working
Single track line operation in Viet-Nam is effected according to timetable.
Crossings are indicated in the timetable and changing of crossings is worked out by exchange of telephone and radio communications between the stations.
Protection of trains running on single track line in the same direction is effected by time interval between the two trains.
b) Signalling
The manual signals in use are as follows:
(i) Main signals
– Home signal (red and white square)
– Distant signal (yellow semaphore)
– Stop signal on sidings (violet square)
(ii) Temporary and movable signals
– Warner
– Speed indicator
– T board: direction indicator, switch dwarf signal
The colors used are:
– Red: absolute stop or immediate stop
– Green: proceed
– Yellow-orange: caution
– Violet: stop, for sidings
(c) Interlocking
In through-passing stations, the levers of the distant signals and of home signals are interlocked with the switch levers by means of Boure Keys.
(d) Communication systems
The VNRS has a private system of communications by telegraph to protect and control train operations. However, because of frequent interruptions by sabotage, this system has recently been replaced by a radio communication and teletype service.
The VNRS radio service includes:
● Radio Collins System of single side band for direct communications between the VNRS Directorate and Regional Services at Nha-Trang and Da-Nang;
● Radio Teletype System for daily communications with major stations by messages regarding commercial transactions and distribution of cars and coaches;
● Radio Dispatching Service by VHFFM for communications between stations, and between stations and trains, for the passing of information necessary to train operations. This system is equipped with three types of apparatus: 300 watts for large centers, 25 watts for stations, and 10 watts for trains.
5. Mechanical Division
(a) Locomotives
● Main Line locomotives
"Alsthom" diesel-electric engines (French make): 6 units
"General Electric" diesel-electric engines (American make): 48 units
Total: 54 units
● Switching locomotives: 2 units
● Diesel railcar: 1 unit
● Steam locomotives: 14 units
● Wickham trolleys: 30 units
(b) Coaches and cars
● Passenger coaches
Flat line coaches: 163 units
Rack line coaches: 13 units
● Freight cars
10T freight cars: 344 units
20T freight cars: 222 units
25T freight cars: 486 units
● Protection cars
10T cars: 20 units
20T cars: 64 units
25T cars: 21 units
● Total 1,333 units
(c) Cranes
Orton 75T capacity: 4 units
Cockerill 63T capacity: 1 unit
Bay City 20T capacity: 1 unit
(d) Facilities
● Office of the Mechanical Department
● 3 Car Shops
● 1 Major Car Repair Plant
● 1 Major Locomotive Repair Plant
● 9 Engine Sheds
(e) Some figures showing the efforts of the Mechanical Department during 1970
(i) Repair of sabotaged locomotives and cars
– Rescue at 60 sabotage incidents
– Repair of 49 out of 54 engines damaged by mines
– Repair of 125 out of 202 cars damaged by mines
(ii) Traffic performed by engines
– Number of kilometres performed 662,495kms
– Number of ton-kilometres performed 15,281,101 TK
(iii) Personnel
Total workforce of 994, distributed as follows:
– Enginemen 197 or 20%
– Shop workers 657 or 66%
– Office workers 146 or 14%
6. Railway operating situation as at March 1972
(a) Operating
(i) Lines in operation
● Saigon to Long-Khanh and branch lines (118.4kms)
● Muong-Manh to Phan-Thiet (11.8kms)
● Thap-Cham to Phu-Cat and branch lines (441.9kms)
● Da-Nang to Hue and branch lines (112.8kms)
● Total length (684.9kms)
(see map attached)
(ii) Rehabilitation program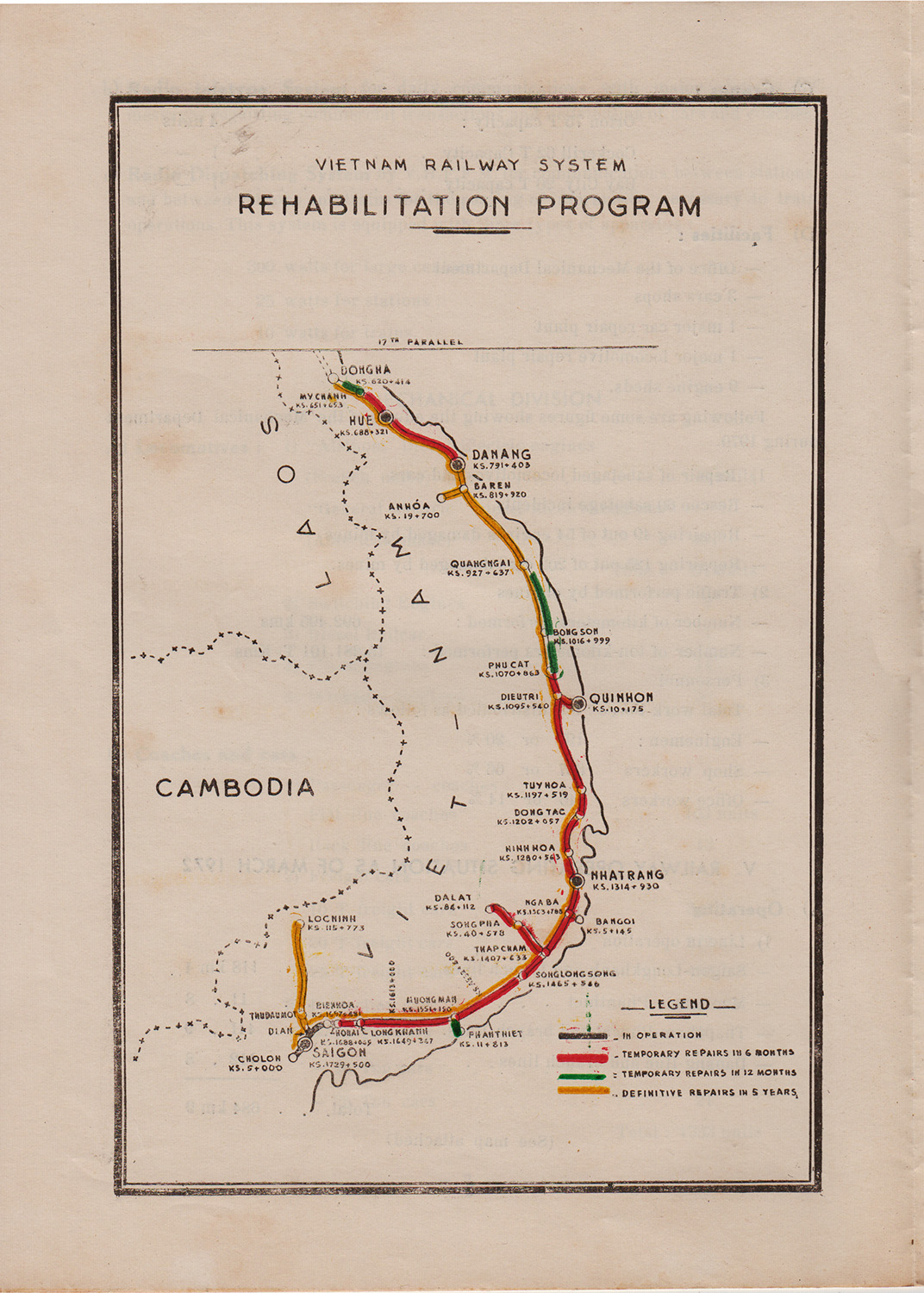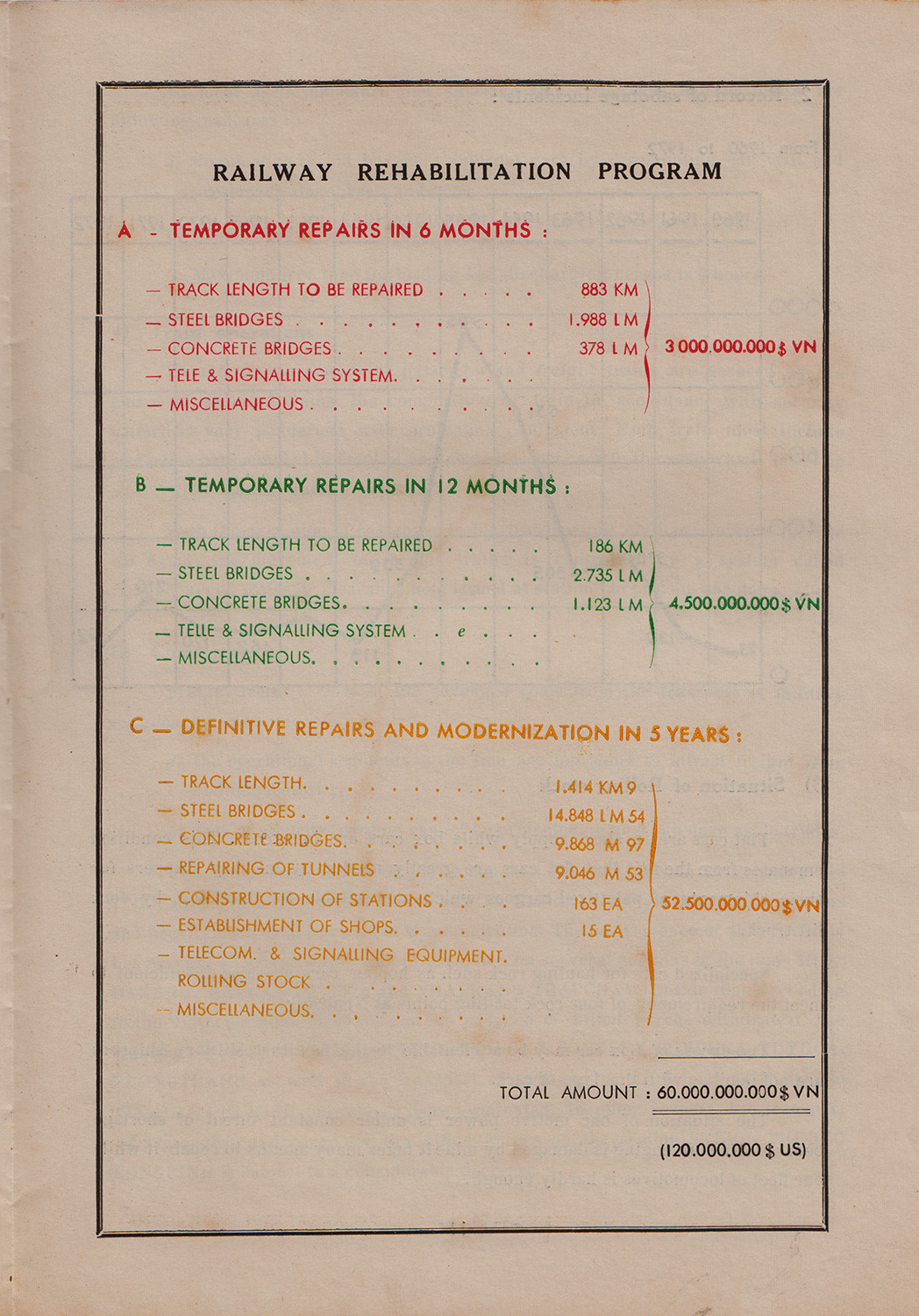 (iii) Record of sabotage incidents from 1960 to 1972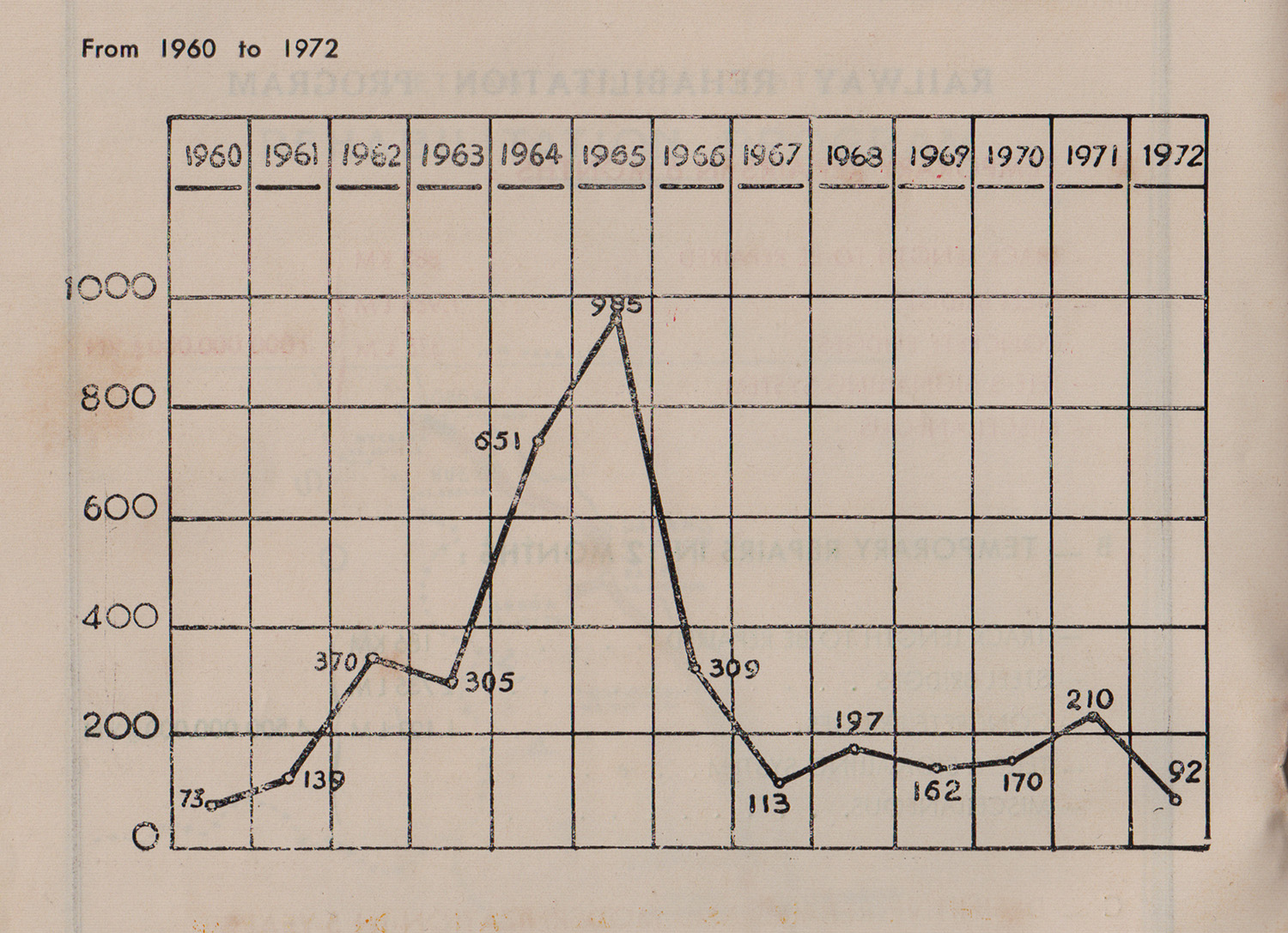 (iv) Situation of rolling stock
Flat cars are in short supply while box cars are in excess. This condition emanates from the fact that flat cars are greatly needed by military shippers for their shipments of palettised cargoes which are suitable for handling by fork lift truck.
Specialized cars for hauling rock, such as hopper cars, are also insufficient to meet the requirements of the four rock loading points at Nha-Trang. The excess of box cars may be attributed to the fact that military shippers are not familiar with this type of car.
The situation of our motive power is under constant threat of shortage, because when an engine is damaged by a mine, it takes many months to repair, while our fleet of locomotives is hardly enough.
To meet such imbalance and shortage, the VNRS has had to adopt the following measures:
– modification of old box cars into flat cars by dismounting car wall and preserving the chassis and floor
– expeditious rotation of rolling stock
The maximum free time for loading and discharging cargoes is 6 hours.
(v) Train operations
Although the movements of passenger and freight trains are secured by the patrol of armored trains, the composition of trains with protection equipment in accordance with the security pattern is very ponderous. Each train must include protection cars coupled in front of the engine and escort cars which take up nearly half the engine trailing capacity.
With the exception of passenger trains transporting civilian workers for the US Army, the movement of freight trains is controlled by a system called "unannounced trains or clearance note issued at station" in order to prevent sabotage.
(b) Commerce
Around 95% of the revenue from freight traffic comes from the transport of military cargoes, because:
– the operational segments of the line are too short to attract freight from civilian sectors; and
– lack of security, cargoes cannot be protected against sabotage as they can when travelling by truck.
The deliberate invasion of the Communist North Viet-Nam by crossing the 17th parallel in early April 1972 has cut Central Viet-Nam into isolated areas and heavily destroyed the axis of communication. This invasion has brought about railway traffic interruption on several sections of the line, namely Hue to Da-Nang, Phu-Cat to Tuy-Hoa and Nha-Trang to Thap-Cham. Besides that, in accordance with the Vietnamization program and the cadence of Allied Forces withdrawal, the transport of rock from Rury to Songlongsong, Song-Luy, Song-Pha, Tuy-Hoa and Phong-Thanh, as well as the transport of fuel and material from Qui-Nhon to Vinh-Lai and Phu-Hiep and returns, were terminated. In other respects, the transportation of passengers and cargoes for the Allied Forces on the section Saigon to Thu-Duc and Long-Binh were subject to a considerable decrease.
The revenues of passengers and freight traffic for the financial year 1972 in comparison with those of 1971 have shown a 37% decrease for passengers and a 63% decrease for freight.
(See the Situation of freight and passenger traffic from 1954 to 1972)
(c) Financial results
The monthly receipts in 1972 were as follows:
Jan 1972: VN$24,600,000
Feb 1972: VN$18,300,000
Mar 1972: VN$21,100,000
Apr 1972: VN$14,800,000
May 1972: VN$12,100,000
Jun 1972: VN$9,700,000
Jul 1972: VN$8,100,000
Aug 1972: VN$7,000,000
Sep 1972: VN$8,900,000
Oct 1972: VN$5,300,000
Nov 1972: VN$2,700,000
Dec 1972: VN$3,200,000
Total: VN$135,800,000
In view of the fact that the railway system is not completely restored, railway activities still depend on the territorial security situation, and war destruction still has a tremendously important impact, the VNRS is not in a position to balance its budget with its own resources. In order to make up its budget deficit, the VNRS will:
– use the amount of profit of the trucking and maritime transportation branch;
– request financial support from the Government budget.

7. Railway Rehabilitation and Modernization
After the Cease-fire of January 28th 1973, the VNRS plans a Rehabilitation and Modernization Program which will preserve the metre track gauge.
To begin with, lines that had been in operation before the Quang-Tri Offensive (March 1972) will be reopened. This will call for the temporary repair of 684kms of track, just to allow trains to pass at very low speed (20-30kph).
Phase 1 of rehabilitation will take place in the next six months, related to 883kms of tracks, and will allow to link thoroughly:
● Saigon to Dalat (406kms)
● Saigon to Qui-Nhon (659kms)
● Da-Nang to My-Chanh (140kms)
By this phase, the railroad will be capable of competing advantageously against automobiles.
Phase 2 is set for the next 12 months after reopening. This will include the rehabilitation of segments of track more seriously damaged (186kms), but which can be repaired by means available in the railroads at the present time. This will permit trains to go further north from Saigon up to Quang-Ngai and from Da-Nang up to Dong-Ha. The average speed will not exceed 20-30kph.
Phase 3 will involve rehabilitation of the remaining segments between Quang-Ngai and Da-Nang (136kms), so heavily damaged that reconstruction will mean construction of a brand new railroad. The work will last at least two years.
****
The modernization of the Vietnamese railway will be carried out during or after the previous three phases of rehabilitation, depending of the financial resources available. It will aim at:
● increasing comfort and speed from average speed of 40kph of prewar period to 60-70kph;
● linking the railway networks of South Viet-Nam and North Viet-Nam and Cambodia;
● performing the recommendations of "Ecafe" for the Transasian Railway Project.
Increasing speed will require the remodelling of track characteristics and the renewal of rolling stock and motive power.
Linking the railway networks of South Viet-Nam to those of North Viet-Nam and Cambodia is perfectly feasible, as they were all once parts of the Indochina Railways. This will result in tremendous economic advantage for Viet-Nam and Cambodia, as well as for the nations of the Ecafe region, from China to Burma.
Starting these modernization schemes will require the co-operation of a survey team of experts in railroad design and construction who will inspect the existing facilities thoroughly and recommend a plan.
Conclusion
In spite of the tremendous difficulties brought about by a protracted war with its extensive destruction, the VNRS has tried hard during the past five years to restore and rehabilitate the Transvietnam railway line, to expand railway operations and to develop the trucking and maritime transportation service.
When peace is completely re-established to this country with the restoration of the railway line from Saigon to Dong-Ha, the VNRS transportation capacity will be much greater than that mentioned above. This potential capacity will constitute a not negligible element in the restoration and development of the national economy.
The VNRS is a means of mass transportation, and in the present technical and economic state of Viet-Nam it is difficult to conceive of any means other than the railway.
It is a practical means of transport of reduced fares and rates, because railway tariffs are approved and promulgated by the Government. The tariffs making policy of VNRS is distinguished by a flexible adaptation to economic necessity; it seeks less to improve the financial results of its operation than to increase the services rendered to the Vietnamese collectivities which benefit from the lowest tariffs at the time being. The railway is still performing the function of harmonizing and stabilizing the prices on the market of the country.
Tim Doling is the author of the walking tour guidebook Exploring Hồ Chí Minh City (Nhà Xuất Bản Thế Giới, Hà Nội, 2014) and also conducts Saigon and Chợ Lớn Heritage Tours.
A full index of all Tim's blog articles since November 2013 is now available here.
Join the Facebook group pages Saigon-Chợ Lớn Then & Now to see historic photographs juxtaposed with new ones taken in the same locations, and Đài Quan sát Di sản Sài Gòn – Saigon Heritage Observatory for up-to-date information on conservation issues in Saigon and Chợ Lớn.