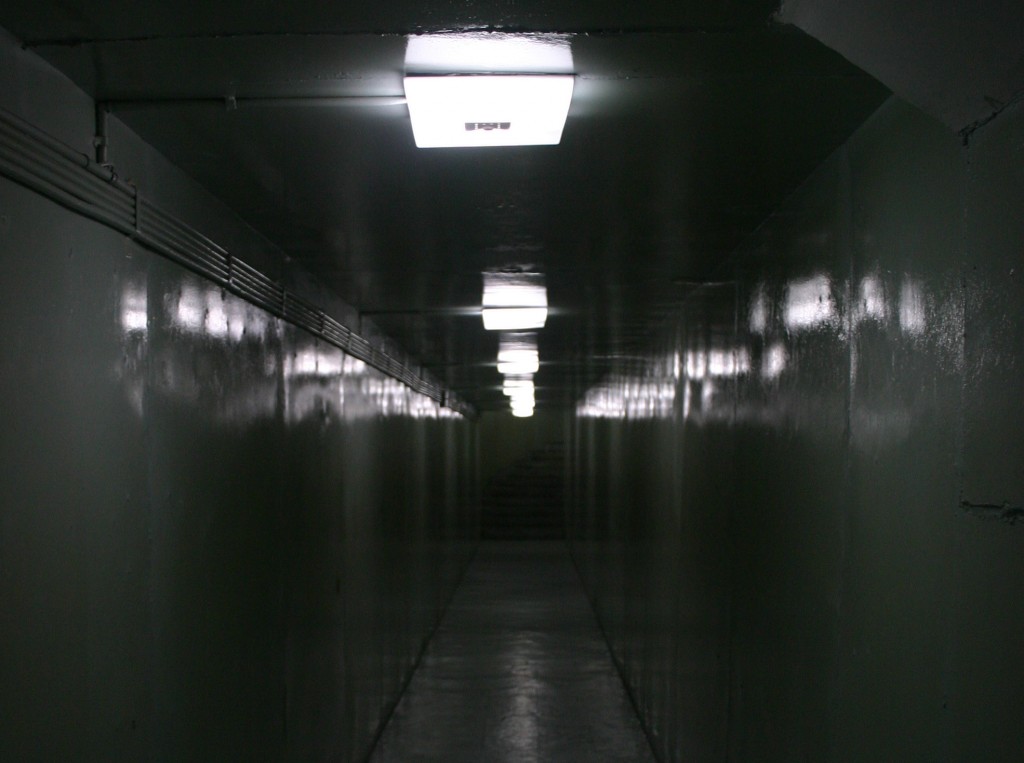 Recently-unearthed photographs and documents suggest that the network of underground tunnels built beneath Saigon was much more extensive than originally believed.

While the Independence Palace was under construction in 1962 to replace the bombed Norodom Palace, South Vietnamese president Ngô Đình Diệm ordered his architect Ngô Viết Thụ to dig underground tunnels beneath both the new building and his temporary replacement, the Gia Long Palace (the former Lieutenant Governor's Palace, now the Hồ Chí Minh City Museum).
Both sets of tunnels may now be visited by tourists, but with sections of each still cordoned off, the rumour that a connecting tunnel was built between the two palaces remains alive and well.
But what about these two intriguing images from the George Krizansky Collection in the Vietnam Center and Archive, taken in the aftermath of the November 1963 coup which overthrew Diệm?
The original images can be found online here:
http://www.flickr.com/photos/13476480@N07/8345358888/in/set-72157632427779423
http://www.flickr.com/photos/13476480@N07/8344300353/in/set-72157632427779423
The existence of a tunnel leading from the Gia Long Palace to the Zoo is confirmed in a US Department of State document entitled The Coup Against the Diem Government, October 23-November 2, 1963: Differing Interpretations of U.S. Policy Toward Coup Plotting, Efforts To Obtain Information on a Potential Coup, Lodge-Diem Discussions, U.S. Assessments of a Coup, The Coup, The Deaths of Nhu and Diem (Foreign Relations, 1961-1963, Volume IV, Vietnam, August-December 1963) http://2001-2009.state.gov/r/pa/ho/frus/kennedyjf/iv/12652.htm
"The Generals [General Trần Văn Đôn and Trần Thiện Khiêm] are aware that there are two underground tunnels of escape from Gia Long Palace. These terminate at the [Mạc Đĩnh Chi] Cemetery [now Lê Văn Tám Park] at the corner of Phùng Khắc Khoan and Phan Thanh Giản [Điện Biên Phủ] and at the Zoo. These were formerly part of the sewers, but the sewerage has been diverted into other channels."
Tunnels leading from the Gia Long Palace all the way to the Mạc Đĩnh Chi Cemetery and to the Saigon Zoo? Clearly the tunnel network under Saigon was once far more extensive than any of us imagined!
Thanks to Tyler Watts for providing this information.
Tim Doling is the author of the walking tour guidebook Exploring Hồ Chí Minh City (Nhà Xuất Bản Thế Giới, Hà Nội, 2014) and also conducts Saigon and Chợ Lớn Heritage Tours.
A full index of all Tim's blog articles since November 2013 is now available here.
Join the Facebook group pages Saigon-Chợ Lớn Then & Now to see historic photographs juxtaposed with new ones taken in the same locations, and Đài Quan sát Di sản Sài Gòn – Saigon Heritage Observatory for up-to-date information on conservation issues in Saigon and Chợ Lớn.