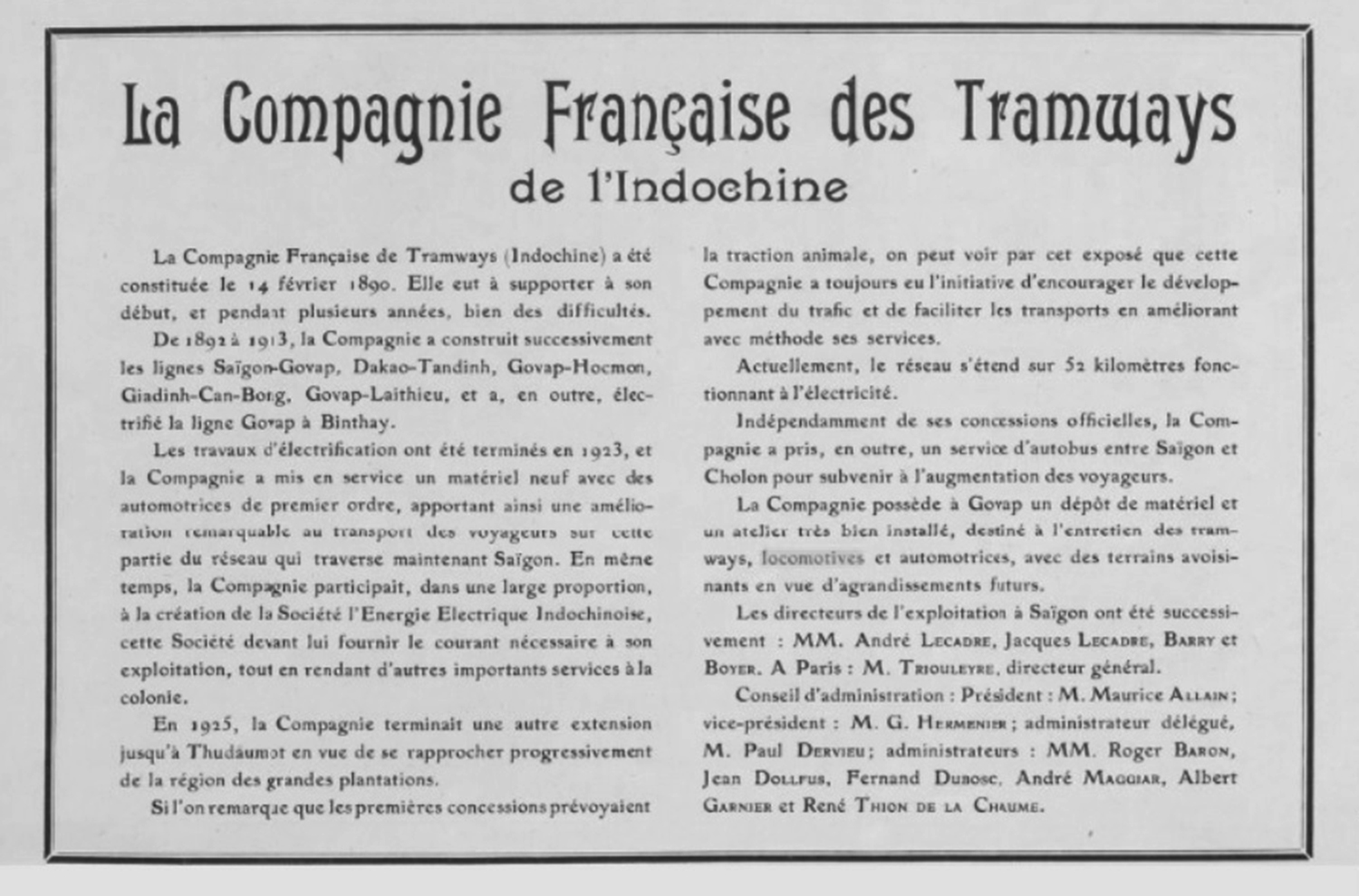 The French Indochina Tramway Company (Compagnie Française de Tramways de l'Indochine) was founded on 14 February 1890. At the outset, and for several years, it had to bear many difficulties.
From 1892 to 1913, the company successively constructed the Saigon-Govap, Dakao-Tandinh, Govap-Hocmon, Giadinh-Can-Bong and Govap-Laithieu lines, and electrified the line from Govap to Binthay.
The electrification works were completed in 1923, and the company commissioned new rolling stock with railcars of the highest quality, bringing a remarkable improvement to the transportation of passengers on that part of the network which passed through Saigon.
At the same time, the company participated fully in the creation of the Indochinese Electric Power Company (Société l'Energie Electrique Indochinoise), which supplied it with the power needed to operate its trains, while at the same time rendering other important services to the colony.
In 1925, the Company completed another extension to Thudaumot, in order to service the large plantation area there.
If we recall that the initial concession was provided only for horse-drawn trams, we can understand how the company has always taken the initiative to encourage the development of its network and to facilitate transportation by consistently improving its services.
Currently, the network extends over 52 kilometres running on electricity. Independently of its official concessions, the company has also launched a bus service between Saigon and Cholon, in order to provide for the increase in the number of travellers.
The company has in Govap a tramway depot and a very well-equipped workshop for the maintenance of tramway lines, locomotives and driving trailers, with neighbouring land allocated for future enlargement.
The directors of the firm in Saigon have been, successively – Messrs. André LECADRE, Jacques LECADRE, BARRY and BOYER, and in Paris – M. TRIOULEYRE, Director General. The Board of Directors now comprises: President – Mr. Maurice ALLAIN; Vice-President – Mr G. HERMENIER; Managing Director – Mr. Paul DERVIEU; Directors – Messrs. Roger BARON, Jean DOLLFUS, Fernand DUBOSC, André MAGGlAR, Albert GARNIER and René THION DE LA CHAUME.
Tim Doling is the author of the walking tour guidebook Exploring Hồ Chí Minh City (Nhà Xuất Bản Thế Giới, Hà Nội, 2014).
A full index of all Tim's blog articles since November 2013 is now available here.
Join the Facebook group pages Saigon-Chợ Lớn Then & Now and Huế Then & Now to see historic photographs juxtaposed with new ones taken in the same locations, and Đài Quan sát Di sản Sài Gòn – Saigon Heritage Observatory for up-to-date information on conservation issues in Saigon and Chợ Lớn.