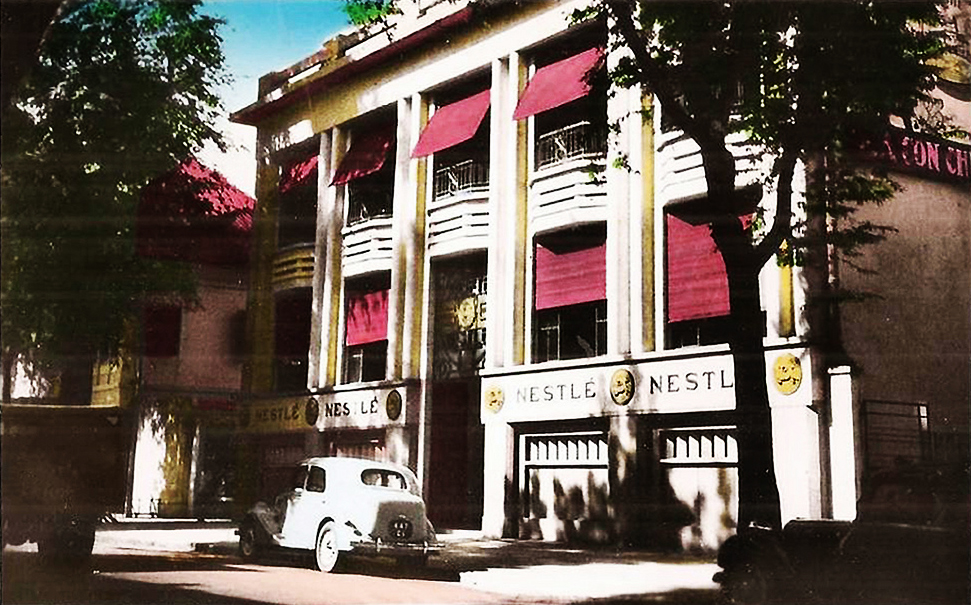 This article was published previously in Saigoneer http://saigoneer.com
The Swiss company Nestlé, founded in 1905 following the merger of Farine Lactée Henri Nestlé (1866) and the Anglo-Swiss Milk Company (1866), established its first trading office in Saigon in 1912.
The building which housed this first Magasin Nestlé & Anglo-Swiss Condensed Milk Co at 5 rue Vannier (Ngô Đức Kế) may still be seen today on the junction with Đồng Khởi street, the former rue Catinat.
The company grew significantly during the First World War years, and by the 1920s the Société Nestlé was selling large quantities of evaporated milk, dairy products and chocolate to consumers in Indochina through its three offices in Saigon, Hà Nội and Hải Phong.
Meanwhile the company sought new, larger premises. In 1916 it moved to 19 rue Mac-Mahon (Nam Kỳ Khởi Nghĩa), then in 1925 it relocated again to nearby 35-37 rue Mac-Mahon. Finally, in the early 1930s, it had its office building at 35-37 rue Mac-Mahon rebuilt in the latest art deco style.
One of the city's most stylish art deco structures, the old Nestlé headquarters was used for a variety of purposes after 1975 and is currently home to the Saigon Times Group.
Tim Doling is the author of the walking tour guidebook Exploring Hồ Chí Minh City (Nhà Xuất Bản Thế Giới, Hà Nội, 2014) and also conducts Saigon and Chợ Lớn Heritage Tours.
A full index of all Tim's blog articles since November 2013 is now available here.
Join the Facebook group pages Saigon-Chợ Lớn Then & Now to see historic photographs juxtaposed with new ones taken in the same locations, and Đài Quan sát Di sản Sài Gòn – Saigon Heritage Observatory for up-to-date information on conservation issues in Saigon and Chợ Lớn.