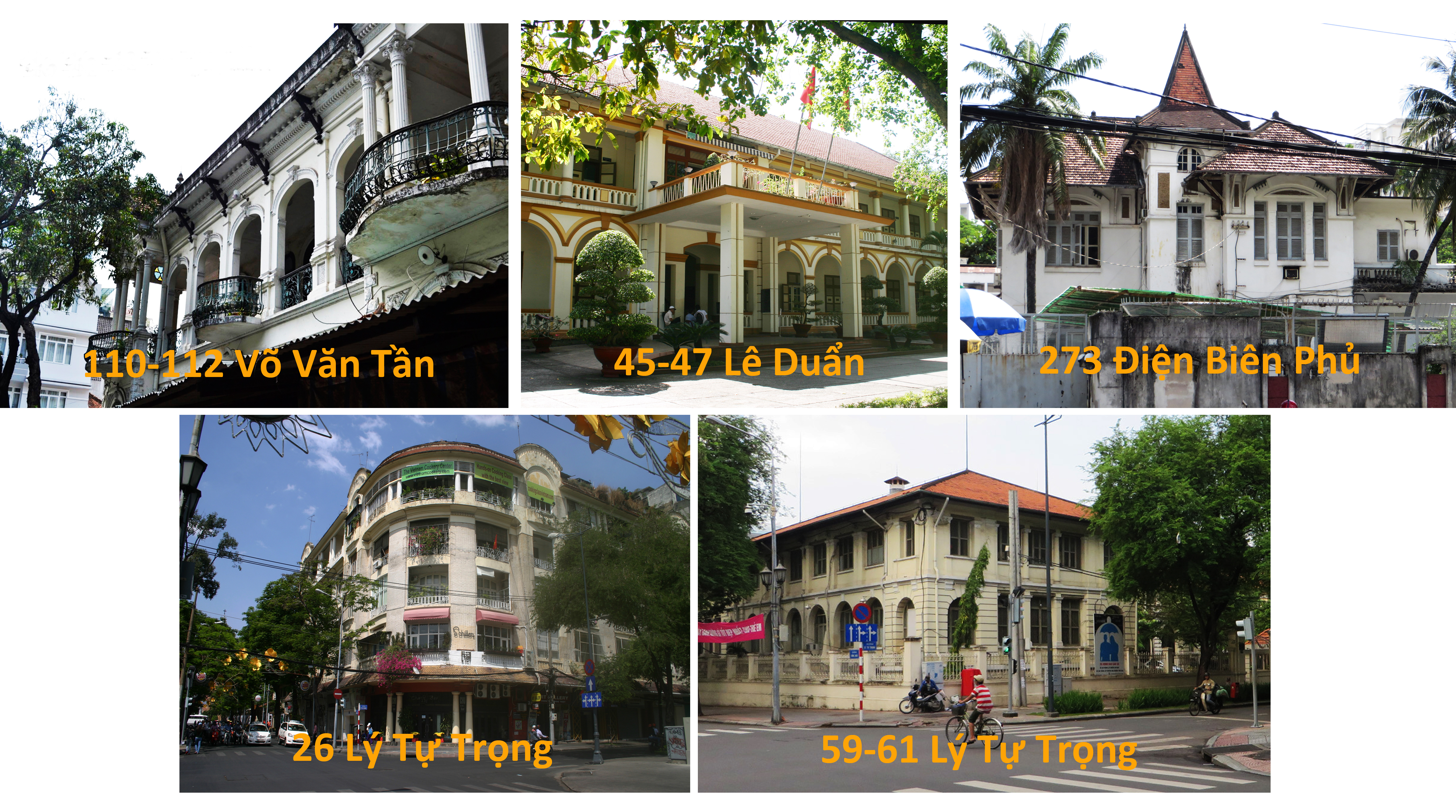 In recent years, while the fate of Hà Nội's built heritage has been more closely monitored by specialists from the Ministry of Culture, Sports and Tourism, a very large number of Hồ Chí Minh City's historic buildings have been systematically demolished with apparent impunity, in the name of economic development.
As the city waits to see which elements of the original "Grands Magasins Charner" design will be incorporated into the façade of the 43-storey replacement for the doomed Saigon Tax Trade Centre, here are the city's "Top Five" historic buildings which are currently under the greatest threat of redevelopment:
1. District 1 People's Committee Building, 45-47 Lê Duẩn
Several weeks ago it was announced that the headquarters of the District 1 People's Committee at 45-47 Lê Duẩn, housed in the former "Cercle des Officiers" (Officers' Mess), would be rebuilt. Opened in 1876 and thus one of the city's oldest colonial structures, it is typical of the colonial civic architecture of its period, with spacious exterior verandahs and shuttered windows. UPDATE: After an initial response to public concern which stressed that the building was not a historic, architectural, cultural or artistic vestige and therefore the redevelopment plan did not violate any regulations, the District 1 People's Committee has now pledged that the old building will be preserved and the new building constructed behind it.
2. Phương Nam Mansion, 110-112 Võ Văn Tần
The largest and most imposing French building in District 3, the Phương Nam Mansion is believed to have been constructed between 1910 and 1920 for a rich Vietnamese businessman. Its unique design features a spacious surrounding upper verandah with decorative balconies and a high-ceiling interior with intricately carved coving work. The building is currently on the market for US$35 million, and at that price, it's obvious that only demolition and reconstruction as a tower block will offer prospective buyers a big enough return on their investment.
3. Catinat Building, 26 Lý Tự Trọng
This 1927 apartment building stands on the so-called "Gold Land" block enclosed by Đồng Khởi, Lý Tự Trọng, Nguyễn Du and Hai Bà Trưng streets, which, according to newspaper reports, will soon be redeveloped to accommodate "services, culture, luxury hotels, finance offices and exhibition areas." One of the best-loved icons in the heart of the city, the Catinat Building is known for its classic art deco interior design. For more information see Date with the Wrecker's Ball (3): The Catinat Building.
4. 273 Điện Biên Phủ
The Hồ Chí Minh City Department of Science and Technology recently announced its intention to build a new Centre for Science and Technology Research and Transfer. The new centre will replace the current building, the French mansion at 273 Điện Biên Phủ, which was built in the 1920s and was once the residence and office of the Swiss Consul General to Cochinchina.
5. 59-61 Lý Tự Trọng
A few years back, the former Secrétariat général du gouvernement de la Cochinchine building (c 1888), currently the Department of Information and Communications at 59-61 Lý Tự Trọng, was earmarked for demolition as part of the scheme to build a new 14-storey Government Centre immediately behind the People's Committee building. However, following the public outcry which attended the early demolition of its neighbour 213 Đồng Khởi and the controversial plan to replace the Saigon Tax Trade Centre with a 43-storey tower block, the authorities have just launched a new design competition which encourages participating architects to incorporate the façade of 59-61 Lý Tự Trọng into the design of the new building. For more information see Date with the Wrecker's Ball (2): 59-61 Ly Tu Trong.
Tim Doling is the author of the walking tour guidebook Exploring Hồ Chí Minh City (Nhà Xuất Bản Thế Giới, Hà Nội, 2014) and also conducts Saigon and Chợ Lớn Heritage Tours.
A full index of all Tim's blog articles since November 2013 is now available here.
Join the Facebook group pages Saigon-Chợ Lớn Then & Now to see historic photographs juxtaposed with new ones taken in the same locations, and Đài Quan sát Di sản Sài Gòn – Saigon Heritage Observatory for up-to-date information on conservation issues in Saigon and Chợ Lớn.