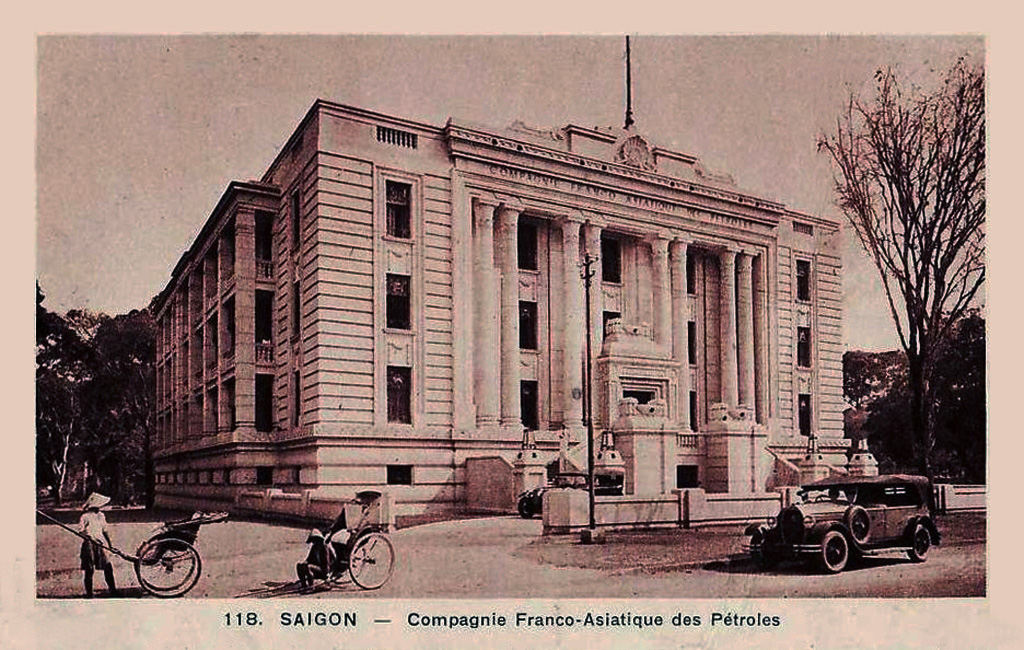 Operating in Saigon from 1911, the Paris-based Compagnie Franco-Asiatique des Pétroles was based initially at 4 rue d'Adran (Hồ Tùng Mậu), moving in 1923 to 100 boulevard de la Somme (Hàm Nghi). During this period, branch offices were also established in Hải Phòng and Tourane (Đà Nẵng).
However, in the early 1930s the company commissioned the construction of a more grandiose headquarters at 15 boulevard Norodom – the building which still stands today at the junction of Lê Duẩn and Tôn Đức Thắng in Hồ Chí Minh City.
In 1952, the Compagnie Franco-Asiatique des Pétroles withdrew from Indochina and its former headquarters building became the main office of Shell Vietnam, the local operating company of the Shell Group.
Described in 1960s publicity material as the "doyenne of petrol companies in Việt Nam, providing for 60% of the country's consumption," Shell Vietnam was later revealed by its former president Louis Wesseling to have failed to control its oil shipments, permitting 7% of the fuel refined by the company to find its way to Hà Nội.
Shell had a long history of association with the British film industry – in the UK it sponsored many films in the 1920s and in 1934 it set up its own in-house documentary film unit which produced a wide range of films on subjects often unrelated to the company's products and services. During the late 1950s, Shell Vietnam opened a tiny 48-seat cinema known as the "Shell Theatre" at its Saigon headquarters building, where these and other British films were screened to the Saigon public.
After 1975 Shell's assets in Việt Nam were transferred to the Vietnam National Petroleum Corporation (Petrolimex), the current occupant of 15 Lê Duẩn.
In 1952-1953, Shell also took over the former Bâtiment de la Marine nationale building at nearby 7 Thống Nhất (the name by which boulevard Norodom was known in the period 1955-1975).
Designed in the 1930s by Paul Veysseyre (who also designed the Brasseries et Glacières d'Indochine buildings in Saigon and Chợ Lớn), this centrally-located building accommodated many of Shell's employees until 1955, when it was acquired by the government and converted it into the office of the Prime Minister of the Republic of Việt Nam.
From that time onwards, the easternmost section of Nguyễn Du street immediately behind it, which originally connected Nguyễn Bỉnh Khiêm with Cường Để (now Tôn Đức Thắng) boulevard, was closed off for security reasons. It has remained closed ever since.
The old Shell employees' apartment block at 7 Lê Duẩn still stands today and currently functions as the Office of the Government.
Tim Doling is the author of the walking tour guidebook Exploring Hồ Chí Minh City (Nhà Xuất Bản Thế Giới, Hà Nội, 2014) and also conducts Saigon and Chợ Lớn Heritage Tours.
A full index of all Tim's blog articles since November 2013 is now available here.
Join the Facebook group pages Saigon-Chợ Lớn Then & Now to see historic photographs juxtaposed with new ones taken in the same locations, and Đài Quan sát Di sản Sài Gòn – Saigon Heritage Observatory for up-to-date information on conservation issues in Saigon and Chợ Lớn.